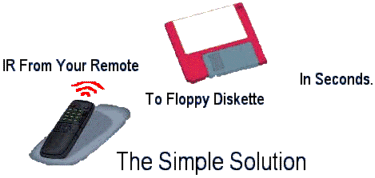 No code erasing. Easy to handle .IRC files. 
-Regular Readyware. Right out of the box smart. Thousands of Pre-programmed Codes.
-Fast, Friendly, Fun, Easy .IRC compiler. 
READYWARE creating point intensive programs.   

-PC to TV Overlay. Crystal clear PC2TV conversion Computer output is overlaid on live video.
NEW STUFF
My One button remote control and the future.

600 x 800 and other resolutions now available with Smart Sizing.

PC to TV conversion becoming less and less important.
Added more new .IRC files
Create your own .irc files in minutes

READYWARE's Mailing list Join now.
Mailing LIST -

Upload your creations .irc files.gif