Things about .IRC files
Make in 256 color with 640x480 resolution or more.
Hotspot Label Toggle On/Off. hotspots can be labeled
windowed .IRC files have a title (VCR, Tape, Ext...) .IRC files can be labeled.
Hotspots can point to IR( Infra Red ) Execution. (Single IR, Macro IR , timed macro interfluves) or Hotspots can point to anther program on the system. (.exe file. Launch programs. ( Answering machine, MP3 player, Ext...)
Remember, it is possible to have more than one .IRC file open at a time... Design accordingly. IRC files can look like anything...with pop-up labels on hotspots.
if you use a 640x480 screen remember to fill the see threw spots with magenta color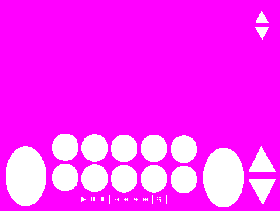 this could be the Play, FF, Pause.......
9
\
0
Enter
Power
+
-
2
----- This could be Volume
1
Screen it exactly 640x480 pixels
This is the magenta color you must use so that its see threw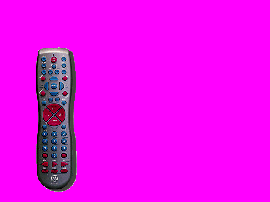 Important Note: When using full screen Fill 640 X 480 Remember to deactivate Dither or Fade in. Edges must be hard from magenta to your color. ( Your Images could have a funny looking pink out line that you may not of wanted. )
They could even look like the remote you already have... Just On Screen..
Good Luck and Good creating.....


Not like this
Correct way
Two color transitions from magenta fill to your component color.